Massage Learning Center Pages:
Advertisement:

Getting Started Section:
Students & Therapist Resources Area:
Massage Test Preparation Resources
(MBLEx, NCBTMB, Massage School)
Overview & Index:
The Massage Learning Center at NJMassage.Info is dedicated to all of my past Massage School teachers & Continuing Education lecturers who cared deeply about the art and practice of Massage Therapy and educating others how to help people suffer less and be more alive through Massage.

Explore our online resource, which may be a great help to those considering becoming Massage Therapists, currently practicing Massage Therapists, as well as students of Massage Therapy, Nursing, Pre-Med, Biology, Chiropractic Care, and other related fields of study.
Advertisement

Therapeutic Massage Helps With...
Chronic Pain, Headaches, Lower Back Pain, Upper Back,
Neck Pain, Fibromyalgia, Stress & Tension Relief,
Migraines, TMJ, Relaxation & Calmness, Depression,
Circulation, Accident Rehabilitation, Post-Op Rehab,
High Blood Pressure, Range of Motion, Immune System,
Insomnia, Sports Injury, Poor Posture, Allergies,
Anxiety, Carpal Tunnel Syndrome, Joint Injury, Autism,
Elderly/Geriatric People, Homebound, Pediatric Clients, Sciatica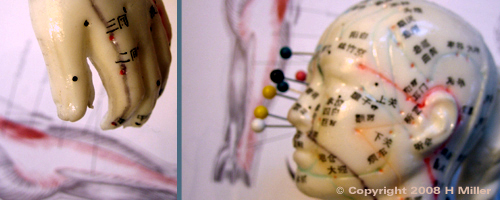 Massage Abstracts / Studies
Index of Scientific Studies proving the efficacy
and effectiveness of Therapeutic Massage
as a healing modality.
Massage Debunkers Debunked!
Some skeptics attempt to debunk
Massage Therapy as a effective treatment.
Here such arguments are addressed.


Advertisement

Get Your Degree!
Find schools and get information on the program that's right for you.
Powered by Campus Explorer

Massage School Classroom. 'My Camp' by Massage Instructor H M M Large Photo.

Massage School: How Long Is Massage School?
How Long is Massage School?
The answer to this question truly depends on where you live. The length of the course, as well as the content of the courses, varies widely across the states. In nearly all states, you are required to have some education, but there are still some states where there are no rules or regulations with regard to massage therapists.
In states where there are no regulations, it is still recommended that you attend your local massage school. This is because nearly all states are considering regulations, which is a process that can take a great deal of time. So, if you have schooling in massage therapy, then you will be prepared and qualified to apply for the license when the regulations are finally formulated. The massage school in your state will most likely already have an idea of what the regulations are going to require, and have tailored their coursework accordingly.
For those states who already have regulations and licensure in place, you can check with your state's Nursing Board or Massage Therapy Board to determine how long massage school will take in that state. To give you a general idea, however, most states have adopted either the National Certification Board for Therapeutic Massage and Bodywork or the Federation of State Massage Therapy Board's own requirements for testing and many are using their tests as the requirements for licensure. So, if your schooling qualifies you to sit for those national examinations, then generally that education will be sufficient to obtain licensure in your state.
The NCBTMB requires either 600 hours of education for state licensure, or 750 hours of education for Board Certification, which is the highest credential available for massage therapists aside from being licensed in New York. The length of time for a course to qualify you to sit for this exam will take about six months to a year and a half.
Another issue with making broad statements about how long massage school will take is that there are day and night programs available. When considering which time of day to take a course, it is advisable to remember that while night classes may fit better with your work schedule, it will require a commitment of twice as much time. So, for example, if you are in New Jersey, the day program will take you five months, and the night program will take you ten months. Since New Jersey has a fairly common number of hours required (in other words, most states require around 600 hours of education), this is a pretty good average amount of time that massage school will take you.
In addition to the standard and minimum requirements for licensure, you may also choose to have a higher credential. If this is your choice, you can take a program at a full accredited university offering an Associates' degree or Bachelor's degree program in Massage Therapy. There are many universities across the country that offer such programs. While the cost may be higher, and the title you receive is the same (Licensed Massage Therapist), the education you get from such schooling is by its nature more in-depth and often more hands on. The cost of these programs is also higher, but you will be in greater demand for employment as a practicing therapist since you will have demonstrated a commitment to your career that goes above and beyond what is required. You will also have an Associates' or Bachelor's degree when you have finished.
The same commitment above and beyond what is required can be said of becoming a Board Certified Massage Therapist, a credential offered by the NCBTMB. This credential was created to gain the respect of doctors, nurses, and other healthcare professionals, and demonstrates a higher level of commitment to your career in massage therapy than does simply taking what is required of you and no more.
So in conclusion, massage therapy school can take anywhere from a few months to four years to complete, depending on the level of training you desire as well as your state's requirements. Since licensing varies so widely from state to state, we have offered a brief guide to these requirements, which can be found on our Licensing Requirements page by clicking here. We hope this brief guide will aid you as you seek to establish yourself in a rewarding career as a massage therapist.

Massage Learning Center Mascot: Massage Duck
Please check out our Massage Learning Center.
We hope that this site helps you launch your future career as a Massage Therapist!